Whenever a surface of a steel is exposed to air and moisture, the coating of steel is removed and corrosion (rusting) happens.
It is a natural process.
Certain areas of your vehicle (edge of boot or glass of your vehicle, and bottom of your vehicle doors) are more vulnerable to corrosion.
When your vehicle is not properly parked or exposed to snow or rain, a certain part of your vehicle (the edge of glass or bottom of doors) become susceptible to corrosion.
By keeping the metal part intact, we gently clean the metal surface, de-rusts every cavity and protect your vehicle from rusting.
We offer you following tailor-made car rust repairing services and extend your vehicle's lifespan.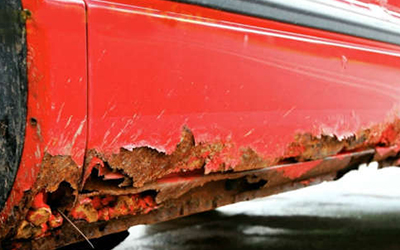 Rust Repairs

Bodywork

Frame straightening

Colour matching

Exterior painting

Rustproofing
UPLOAD YOUR SMASH PROCESS
* Quote can be completed in one hour from Monday to Friday between the hours of 9:00 am to 5:00 pm.
Testimonial

Your Content Goes Here Your Content Goes Here Your Content Goes Here Your Content Goes Here Your Content Goes Here Your Content Goes Here

Your Content Goes Here Your Content Goes Here Your Content Goes Here Your Content Goes Here Your Content Goes Here Your Content Goes Here